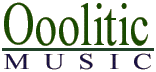 Advantages of Ooolitic Online Music Distribution
---
All scores can be ordered 24 hours a day, 7 days a week, and most orders ship within 48 hours.
As a performer, Malcolm travels with his music and is often moved to upgrade the scores based on experiences with choirs. These latest versions are always available.
We can also customize voicing and part printouts to a choir's needs, andding newly developed charts for movement, memorization, and other performance ideas.
Directors are assured they will be not only receiving the latest improved and customized score, but they may also engage the composer in a dialogue about the piece.
Custom CDs are available for every song to help choirs learn through oral transmission the unique stylistic ideas that inspire Malcolm's music.
If required, Ooolitic Music can ship the customer pre-printed copies of any score. Click here for instructions.